Gyrus atrophy of the choroid and retina. A case presentation
Keywords:
atrophy, gyrus, choroid, retina
Abstract
Gyrus atrophy is a rare autosomal recessive hereditary disease secondary to a mutation of the OAT gene on chromosome 10 which results in a deficiency of the mitochondrial enzyme ornithine aminotransferase that causes a 20-fold increase in serum concentrations of the amino acid ornithine. The disease is characterized by atrophic choroid and retinal patches that begin in the peripheral retina in the first decade and later spread centrally to the macular area, causing cystic changes and posterior subcapsular cataracts.
The clinical picture is characterized by night blindness, constriction of the visual field and finally decreased central vision and blindness. In this article, we present the case of a 53-year-old woman with no significant hereditary antecedents who presented a decrease in visual acuity after several months of evolution.
References
Tsang SH, Aycinena ARP, Sharma T. Inborn Errors of Metabolism: Gyrate Atrophy. Adv Exp Med Biol. 2018;1085:183-185. https://doi.org/10.1007/978-3-319-95046-4_37
Elnahry AG, Tripathy K. Gyrate Atrophy Of The Choroid and Retina. 2021 Apr 20. In: StatPearls [Internet]. Treasure Island (FL): StatPearls Publishing; 2021.
Sahin A, Türkcu FM, Sahin M, Yildirun A. Cystoid macular edema secondary to gyrate atrophy in a child treated with sub-tenon injection of triamcinolone acetonide. Romanian J Ophthalmol, 2018;62(3):246-9. https://doi.org/10.22336/rjo.2018.37
Shrestha SP, Arora R, Pradhan R, Bhatt S. First reported cases of gyrate atrophy od the choroid from Nepal. BMJ Case Reports. 2010;10:1136. https://doi.org/10.1136/bcr.04.2010.2951
Raitta C, Carlson S, Vannas-Sulonen K. Gyrate atrophy of the choroid and retina: ERG of the neural retina and the pigment epithelium. British Journal of Ophthalmology. 1990;74:363-7. https://doi.org/10.1136/bjo.74.6.363
Moloney TP, O'Hagan S, Lee L. Ultrawide-field fundus photography of the first reported case of gyrate atrophy from Australia. Clinical Ophthalmology. 2014;8:1561-3. https://doi.org/10.2147/OPTH.S64248
Elpeleg ON, Korman SH. Sustained oral lysine supplementation in ornithine d-aminotransferase deficiency. J Inherit Metab Dis 2001; 24: 423 -424 https://doi.org/10.1023/A:1010545811361
Valle D, Walser M, Brusilow S, Kaiser-Kupfer MI, Takki K. Gyrate atrophy of the choroid and retina: biochemical considerations and experience with an arginine restricted diet Ophthalmology 1981; 88: 325-330 https://doi.org/10.1016/S0161-6420(81)35028-3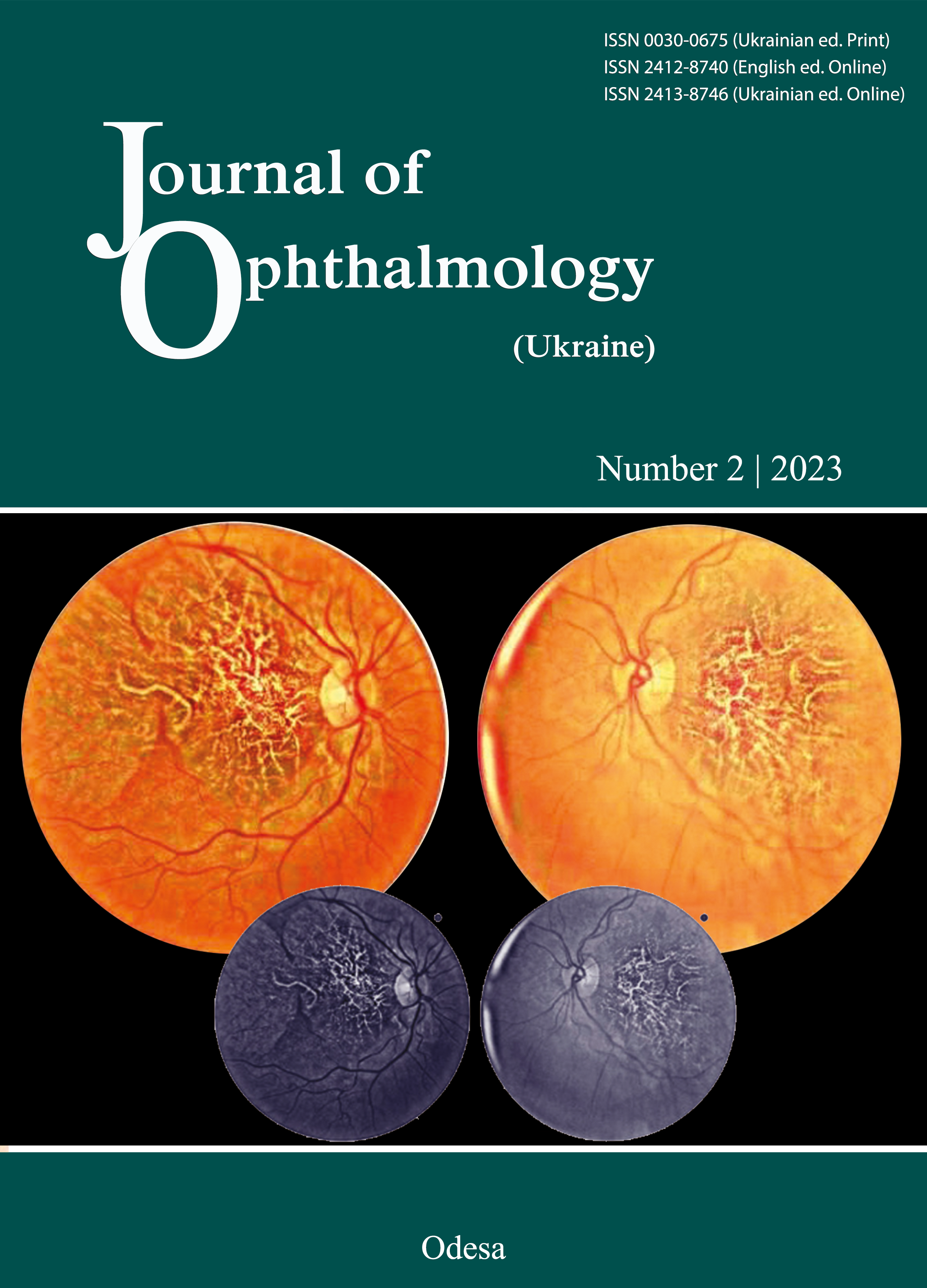 Downloads
How to Cite
1.
Garduno Vieyra L, Rua Martinez R, Rodriguez Mena N, Villalobos Alonso G. Gyrus atrophy of the choroid and retina. A case presentation . JO (Ukraine) [Internet]. 2023 Apr. 25 [cited 2023 Jun. 7];(2):63-4. Available from: https://ua.ozhurnal.com/index.php/files/article/view/28
License
Copyright (c) 2023 Leopoldo Garduno Vieyra , Raul Rua Martinez , Natalia Rodriguez Mena, Gladys Villalobos Alonso
This work is licensed under a Creative Commons Attribution 4.0 International License.
This work is licensed under a Creative Commons Attribution 4.0 International (CC BY 4.0) that allows users to read, download, copy, distribute, print, search, or link to the full texts of the articles, or use them for any other lawful purpose, without asking prior permission from the publisher or the author as long as they cite the source.
COPYRIGHT NOTICE
Authors who publish in this journal agree to the following terms:
Authors hold copyright immediately after publication of their works and retain publishing rights without any restrictions.
The copyright commencement date complies the publication date of the issue, where the article is included in.
DEPOSIT POLICY
Authors are permitted and encouraged to post their work online (e.g., in institutional repositories or on their website) during the editorial process, as it can lead to productive exchanges, as well as earlier and greater citation of published work.
Authors are able to enter into separate, additional contractual arrangements for the non-exclusive distribution of the journal's published version of the work with an acknowledgement of its initial publication in this journal.
Post-print (post-refereeing manuscript version) and publisher's PDF-version self-archiving is allowed.
Archiving the pre-print (pre-refereeing manuscript version) not allowed.