Complications after proton therapy of choroidal melanoma: A case report
Keywords:
choroidal melanoma, proton therapy, complications
Abstract
Proton beam therapy is a globe preserving treatment method of choroidal melanoma. It is considered to be less harmful for the tissues around the tumour but the complications such as radiation retinopathy and neuropathy occur according to the dosage of irradiation. The visual outcomes after treatment are variable and dependent on the size of tumour.
This article presents a case report of a 44-year-old male with choroidal melanoma in the left eye. Patient was examined in our ophthalmology practice because of photopsia and blurry vision during physical activity. After full ophthalmologic examination, fundus photography, optic coherent tomography, fluoresceine angiography and ultrasonography the diagnosis of malignant melanoma of choroid was set. The patient was referred to a proton center to undergo a proton therapy of choroidal melanoma in the left eye. Follow-up treatment of severe postradiation retinopathy and neuropathy is presented in the article. The patient took intravitreal bevacizumab injections and the panretinal lasercoagulation was performed. After one and half year follow up the melanoma is stable after therapy with no metastases.
References
Chattopadhyay C, Kim DW, Gombos DS, Oba J, Qin Y, Williams MD, et al. Uveal melanoma: From diagnosis to treatment and the science in between. Cancer. 2016 Aug 1;122(15):2299-312. https://doi.org/10.1002/cncr.29727
Damato B, Kacperek A, Errington D, Heimann H. Proton beam radiotherapy of uveal melanoma. Saudi journal of ophthalmology : official journal of the Saudi Ophthalmological Society. 2013; 27(3), 151-157. https://doi.org/10.1016/j.sjopt.2013.06.014
Espensen CA, Kiilgaard JF, Appelt AL, Fog LS, Herault J, Maschi C, Caujolle JP, Thariat J. Dose-Response and Normal Tissue Complication Probabilities after Proton Therapy for Choroidal Melanoma. Ophthalmology. 2021 Jan;128(1):152-161. https://doi.org/10.1016/j.ophtha.2020.06.030
Finger PT. Radiation retinopathy is treatable with anti-vascular endothelial growth factor bevacizumab (Avastin). Int J Radiat Oncol Biol Phys. 2008 Mar 15;70(4):974-7. https://doi.org/10.1016/j.ijrobp.2007.11.045
Gündüz K, Shields CL, Shields JA, Cater J, Freire JE, Brady LW. Radiation Retinopathy Following Plaque Radiotherapy for Posterior Uveal Melanoma. Arch Ophthalmol. 1999;117(5):609-614. https://doi.org/10.1001/archopht.117.5.609
Kaliki S, Shields CL. Uveal melanoma: relatively rare but deadly cancer. Eye (Lond). 2017 Feb;31(2):241-257. https://doi.org/10.1038/eye.2016.275
Kim IK, Lane AM, Jain P, Awh C, Gragoudas ES. Ranibizumab for the Prevention of Radiation Complications in Patients Treated With Proton Beam Irradiation for Choroidal Melanoma. Trans Am Ophthalmol Soc. 2016 Aug;114:T2.
Lima B R., Singh A., Bevacizumab Therapy for Choroidal Melanoma. European Oncology & Haematology, 2012;8(2):101-4. https://doi.org/10.17925/EOH.2012.08.02.101
Mishra, K. K., & Daftari, I. K. Proton therapy for the management of uveal melanoma and other ocular tumors. Chinese clinical oncology. 2016; 5(4), https://doi.org/10.21037/cco.2016.07.06
Psomiadi A, Haas G, Edlinger M, Bechrakis NE, Blatsios G. Ultra-wide-field imaging of choroidal melanoma before and after proton beam radiation therapy. Eur J Ophthalmol. 2020 Nov;30(6):1397-1402. https://doi.org/10.1177/1120672119873210
Rusňák Š, Hecová L, Kasl Z, Sobotová M, Hauer L. Therapy of uveal melanoma A Review. Terapie uveálního melanomu přehled. Ceska a slovenska oftalmologie : casopis Ceske oftalmologicke spolecnosti a Slovenske oftalmologicke spolecnosti. 2020; 77(1), 1-13. https://doi.org/10.31348/2020/X10
Singh P., Singh A. Choroidal melanoma. Oman J Ophthalmol. 2012 Jan;5(1):3-9. https://doi.org/10.4103/0974-620X.94718
Terzidou C, Trivli A, Dalianis G, Apessou D, Spandidos DA, Goulielmos GN. Advanced choroidal melanoma with a desirable aesthetic outcome after enucleation: A case report. Oncology Letters. 2018; 16 (1): 511-514. https://doi.org/10.3892/ol.2018.8661
Toutée A, Angi M, Dureau S, Lévy-Gabriel C, Rouic LL, et al. Long-Term Visual Outcomes for Small Uveal Melanoma Staged T1 Treated by Proton Beam Radiotherapy. Cancers. 2019; 11(8), 1047. https://doi.org/10.3390/cancers11081047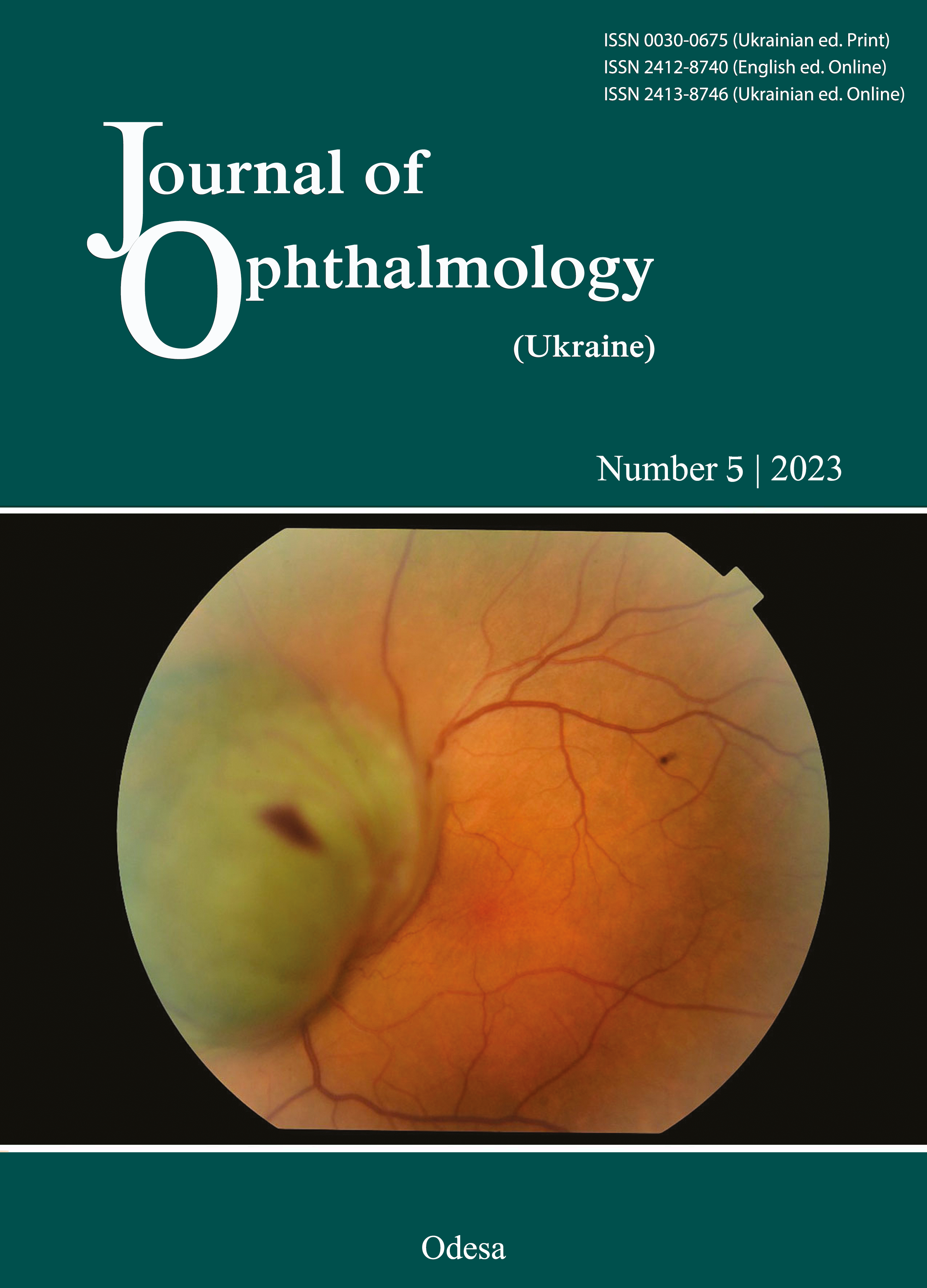 Downloads
How to Cite
1.
Kuková N, Molnarova M, Stefanickova J. Complications after proton therapy of choroidal melanoma: A case report. J.ophthalmol. (Ukraine) [Internet]. 2023 Nov. 1 [cited 2023 Nov. 29];(5):56-8. Available from: https://ua.ozhurnal.com/index.php/files/article/view/64
License
Copyright (c) 2023 Natalia Kuková, Maria Molnarova, Jana Stefanickova
This work is licensed under a Creative Commons Attribution 4.0 International License.
This work is licensed under a Creative Commons Attribution 4.0 International (CC BY 4.0) that allows users to read, download, copy, distribute, print, search, or link to the full texts of the articles, or use them for any other lawful purpose, without asking prior permission from the publisher or the author as long as they cite the source.
COPYRIGHT NOTICE
Authors who publish in this journal agree to the following terms:
Authors hold copyright immediately after publication of their works and retain publishing rights without any restrictions.
The copyright commencement date complies the publication date of the issue, where the article is included in.
DEPOSIT POLICY
Authors are permitted and encouraged to post their work online (e.g., in institutional repositories or on their website) during the editorial process, as it can lead to productive exchanges, as well as earlier and greater citation of published work.
Authors are able to enter into separate, additional contractual arrangements for the non-exclusive distribution of the journal's published version of the work with an acknowledgement of its initial publication in this journal.
Post-print (post-refereeing manuscript version) and publisher's PDF-version self-archiving is allowed.
Archiving the pre-print (pre-refereeing manuscript version) not allowed.