Clinical and pathomorphological changes in the rabbit retina after an injection of various doses of the cytostatic melphalan
Keywords:
intracameral chemotherapy, pathomorphological changes, melphalan
Abstract
Background: In recent years, there have been individual reports on intracameral chemotherapy (ICC) for aqueous seeding in retinoblastoma. The effect of melphalan on the structures of the ocular anterior segment (including the cornea, iris and anterior lens capsule) is however, still unknown, since no relevant experimental studies have been carried out so far.
Purpose: To experimentally assess the changes in the rabbit anterior segment induced by intracameral injection of various concentrations of the alkylating cytostatic melphalan.
Material and Methods: Twelve adult Chinchilla rabbits (22 eyes; age, 5–6 months; weight, 2.5–3 kg) were involved in this experimental study and maintained in the vivarium of the Filatov institute in separate cages under standard conditions.
Results: After a 5-µg melphalan injection, corneal and iris changes were reversible and the lens was still clear. With an increase in melphalan concentration in injection solution (to 10, 15 and 20 µg) and time point (to 1 month and 3 weeks) after injection, degenerative changes in some epithelial cells of the iris became irreversible, anterior capsular cataract developed, but the cornea and anterior chamber aqueous remained clear. After a single 20-µg intracameral injection of melphalan, there was depigmentation of the iris, posterior synechia and anterior capsular cataract.
Conclusion: Clinical and ultrastructural responses of ocular anterior segment tissue to intracameral melphalan injection depended on the injected dose and time point after injection. Most cells of examined tissues showed the capability to restore their ultrastructure following ceasing of the toxic effect of the drug.
References
Bobrova NF, Vit VV, Sorochynska TA, Smaglii DV. [Clinical and histological parallels of retinoblastoma at high risk for dissemination]. In: [Proceedings of the 14th Congress of Ophthalmologists of Ukraine. Odesa, May 23-25, 2018. p.207-208].
Bobrova NF, editor. [A monograph on retinoblastoma]. Odesa: Izdatelskii tsentr; 2020. Russian.
Murphree AL. Intraocular Retinoblastoma: the Case for a New Group Classification. Ophthalmol Clin North Am. 2005 Mar;18(1):41-53. https://doi.org/10.1016/j.ohc.2004.11.003
Munier FL, Gaillard M-C, Decembrini S. Aqueous seeding: fall of the ultimate intraocular retinoblastoma sanctuary by a new in situ chemotherapy technique. Invest Ophthalmol Vis Sci. 2015;56:1663.
Shields CL, Ramasubramanian A, Thangappan A, et al. Chemoreduction for group E retinoblastoma: comparison of chemoreduction alone versus chemoreduction plus low-dose external radiotherapy in 76 eyes. Ophthalmology. 2009;116:544-51. https://doi.org/10.1016/j.ophtha.2008.10.014
Munier FL, Moulin A, Gaillard MC, Bongiovanni M, Decembrini S, Houghton S, et al. Intracameral Chemotherapy for Globe Salvage in Retinoblastoma with Secondary Anterior Chamber Invasion. Ophthalmology. 2018 Apr;125(4):615-7. https://doi.org/10.1016/j.ophtha.2017.11.010
Reуnoldes E. S. The use of lead citrate at high pH as an electron-opaque stain in electron microscopy. J Cell Biol. 1963 Apr;17(1):208-12. https://doi.org/10.1083/jcb.17.1.208
Moll AC, Imhof SM, Schouten-van Meeteren AYN, Boers M, van Leeuwen F, Hofman P. Chemoreduction for retinoblastoma. Arch Ophthalmol. 2003 Oct 1;121(10):1513. https://doi.org/10.1001/archopht.121.10.1513
Pavlidou E, Burris C, Thaung C, et al. Anterior segment seeding in eyes with retinoblastoma failing to respond to intraophthalmic artery chemotherapy. JAMA Ophthalmol. 2015;133:1455-8. https://doi.org/10.1001/jamaophthalmol.2015.2861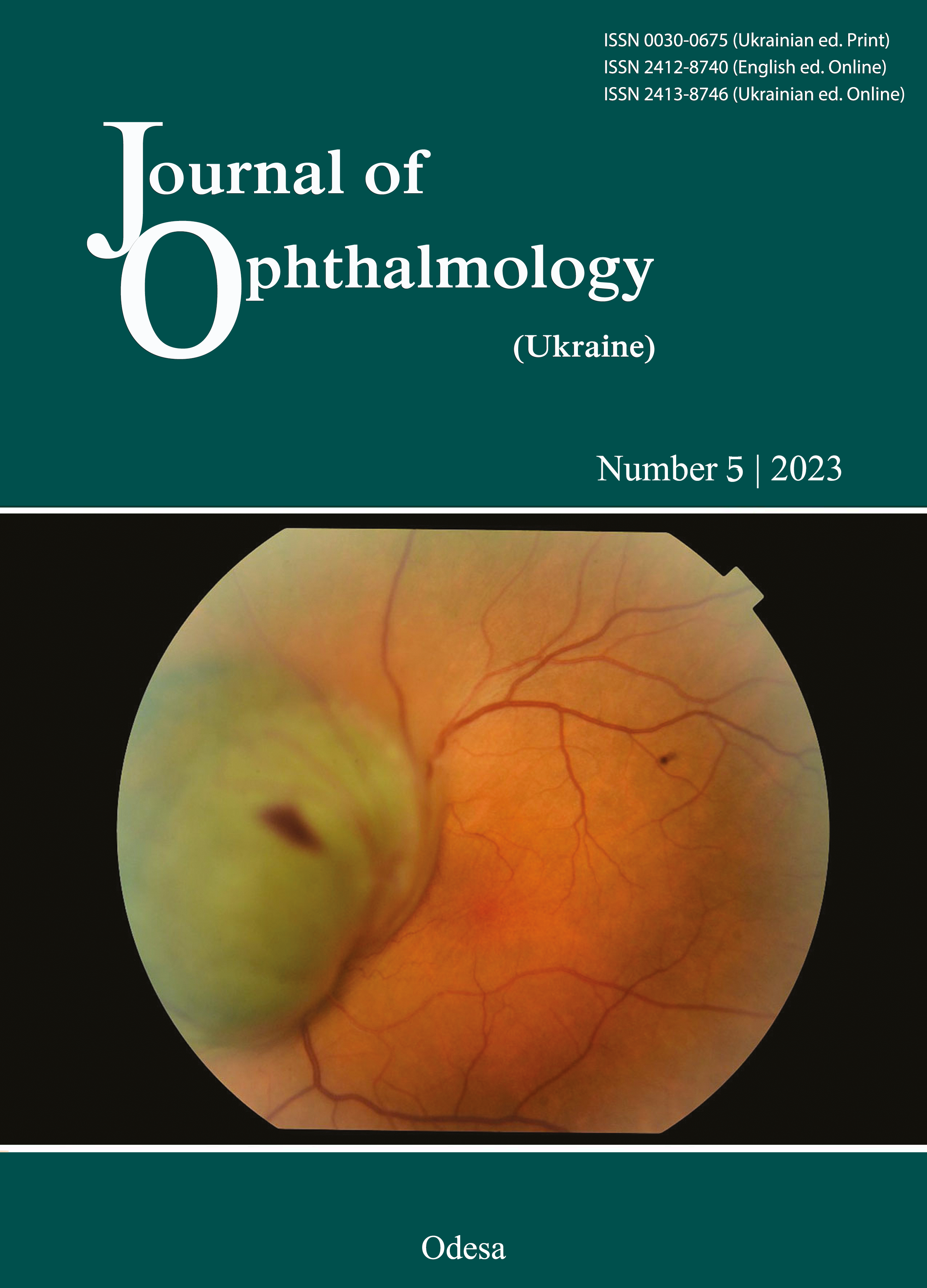 Downloads
How to Cite
1.
Bobrova NF, Sorochynska TA, Tronina SA, Romanova TV, Molachaniuk NI, Bratishko OI, Shylyk AV. Clinical and pathomorphological changes in the rabbit retina after an injection of various doses of the cytostatic melphalan. J.ophthalmol. (Ukraine) [Internet]. 2023 Nov. 1 [cited 2023 Nov. 29];(5):41-5. Available from: https://ua.ozhurnal.com/index.php/files/article/view/59
Section
Experimental Studies
License
Copyright (c) 2023 Bobrova N.F., Sorochynska T.A., Tronina S.A., Romanova T.V., Molachaniuk N.I., Bratishko A.Iu., Shylyk A.V.
This work is licensed under a Creative Commons Attribution 4.0 International License.
This work is licensed under a Creative Commons Attribution 4.0 International (CC BY 4.0) that allows users to read, download, copy, distribute, print, search, or link to the full texts of the articles, or use them for any other lawful purpose, without asking prior permission from the publisher or the author as long as they cite the source.
COPYRIGHT NOTICE
Authors who publish in this journal agree to the following terms:
Authors hold copyright immediately after publication of their works and retain publishing rights without any restrictions.
The copyright commencement date complies the publication date of the issue, where the article is included in.
DEPOSIT POLICY
Authors are permitted and encouraged to post their work online (e.g., in institutional repositories or on their website) during the editorial process, as it can lead to productive exchanges, as well as earlier and greater citation of published work.
Authors are able to enter into separate, additional contractual arrangements for the non-exclusive distribution of the journal's published version of the work with an acknowledgement of its initial publication in this journal.
Post-print (post-refereeing manuscript version) and publisher's PDF-version self-archiving is allowed.
Archiving the pre-print (pre-refereeing manuscript version) not allowed.